---
In the last two blog posts I have spent time discussing the importance of planning, and for that planning to be rigorous, with a result that a business succeed. Here I discuss again, this importance.
---
I think I have lost count of how many business plans, commercialization plans and export planning documents I have read. It might very well be in the hundreds. Most of these have been created by the businesses, that now find themselves coming to me for various kinds of advice, from inserting some portion of market research, validating their assumptions about market channels, or understanding their value proposition vis-à-vis, their competitors, barriers to growth or a regulatory issue.
Another one came across my desk about three weeks ago, from a seemingly (on paper at least) intelligent business with leading authorities on this kind of work – a Stanford MBA as a co-owner, a UCLA Anderson School graduate as the other co-owner, and a team of very smart, young and enthusiastic individuals. Certainly very capable and highly educated – so what did they forget to do? This start-up was in the 'click-revenue' business. The click-revenue style business is fairly well established in the internet world and there are a few business models in use. They articulated very well, verbally, how their business was to run. But they needed to get an SBA loan to cover some additional costs, especially on the sales and marketing side. It was this marketing model, outside of the traditional click-revenue strategy, that they wanted to employ.
Their problem was three fold: no where was this mentioned in their business plan, and they wanted to merely satisfy generating a business planning document to fulfill getting funding, and not to use the plan as a way of establishing their businesses and projecting it in the direction of profitability. Lastly they didn't make a case for how they were going to generate profits at all, not even how they were going to spend the loan money – they believed that profits would come irrespective of the plan; a plan they believed was outstanding and that in 11 pages captured everything they needed to guarantee a loan.
Uh oh…
 "Now I've been to one world fair, a picnic and a rodeo and that's the stupidest thing I've ever read in a business plan!"
I could guess what they had done, which was later confirmed in a discussion with an employee (let's call him…"Bob") I was passed off to, to get the information I needed to "tighten up" the plan. Bob informed me that he was instructed to download a sample and template and to work off that, getting input from relevant other coworkers, and final review by one of the co-owners, who made a few changes (I was informed) and sent off to the bank, via the local SBA office. It was sent back. I was called.
Ikea. It's all very easy. Too easy sometimes. They have memorable (and funny) Scandinavian product names. You either go to the Ikea store or shop online, collect your goods at the pick-up area, load into your car and then take it home to assemble. In the box is a direction sheet with stylized drawings of how the assembled masterpiece should connect. Business planning templates are much the same. You Google to find appropriate links to download a template, a guide and you get started – you don't even need an Allen key to put on together. The result can often be mediocre at best and there have been disastrous results from DIY business planning. THEY think their plan is great!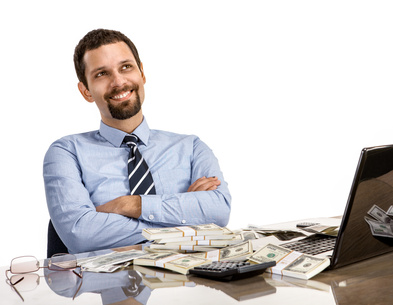 "I thinks it's great!" ("Bob" – not his real name)
But wait! Fortunately there is a cognitive bias that explains everything. It's called "The IKEA Effect". It is named after the same Swedish company that sells furniture that requires assembly.
Proposed by Economist Dan Ariely (the James B Duke Professor of Psychology and Behavioral Economics at Duke University and lover of all things Burning Man), and the author of several books related to behavioral economics, along with Michael Norton at Harvard School of Business, it posits that people view and value their own creations more than those of experts, even if their creations are not very good. The theory further suggests that destroying ones own creation or incomplete creations, lessen the bias effects. This explains everything! Sometimes even businesses further devote time, resources and energy to failing projects because they have sunk and invested their labor already, and are reluctant to move to bigger and possibly better things.
Businesses must hold allegiance to their customers. This means they must not only be successful, but delivery of their product or service imperative to that mission. Bob should have been asking his company presidents how their business plan translates to the customer…
"Perhaps it might be better, Mr. President, if you were more concerned with your customers"
Business planning is part of that mission, backed up with sound research and the best accounting. Business planning and commercialization should be an investment, and it sometimes costs money to achieve something good. But it's worth it. Inherent in business is risk, and planning mitigates that risk.
Here is what I suggest to businesses seeking a business plan:
Consult with an expert: consultants and expert professionals seek to eliminate bias from your reporting, and want you to do well. They will give sound advice based on expertise, knowledge and experience. Businesses should listen to them and consider what they have to offer in planning, modeling and commercialization. They will know what is important to include.
Set aside a budget for planning: Your business is an investment, and planning is part of that investment to eliminate unnecessary risk exposure.  In the world of business planning, you unfortunately get-what-you-pay-for, and in sophisticated and mature markets, *free* just wont cut it. Don't know how much to set aside for an expert? I suggest looking on Elance to see reasonable and "going rates".
Update plans as the market changes: Markets change very quickly, and your product may be "cool" or "novel", but do customers need or want it? Do you research, or get a market research business to give you a better understanding about market forces and dynamics. Revisit your plan often, and make changes…which brings me to my next point…
Use your business plan: A business plan doesn't just satisfy a craving for funding, or a business loan. You should be using your business plan to make sure you are keeping up with benchmarks, standards within your company, following your marketing plan and keeping up with revenue, spending and margins.
Reevaluate business planning each cycle: Your customers tastes change, there are new regulatory regimes to understand, demographics shift and some disruptive company is now chewing away at your market share. A business plan allows you to keep up with it all, in a written format, and to reevaluate how to make the next step in the business – discarding a business line, introducing a new suite of products or even moving to a new location. Reduce time to market, stay ahead of competitors and play withing the rules of the market. It doesn't have to be a drastic shift, but you should still stay ahead of any wave.
'Bob', his team, and his businesses owners were lucky. I "tightened" up their plan for $500 and we will reevaluate the document in 6-months – a small price to pay for a higher result. They have an updated market research section, in which we added two new substitute markets complete with channel analysis, a marginal cost analysis, a competitive analysis paragraph, including two new graphs, a marketing plan (which also includes a 'who-is-doing-what') and a much improved profit-and-loss statement, which will all go towards a much better value-proposition and reduce their level of risk exposure. Don't worry, consultants help. Now, one last picture:
Update: Ikea recently took part in a "Time Travel Hypnosis" experiment. You can see it here